Cueva de Nerja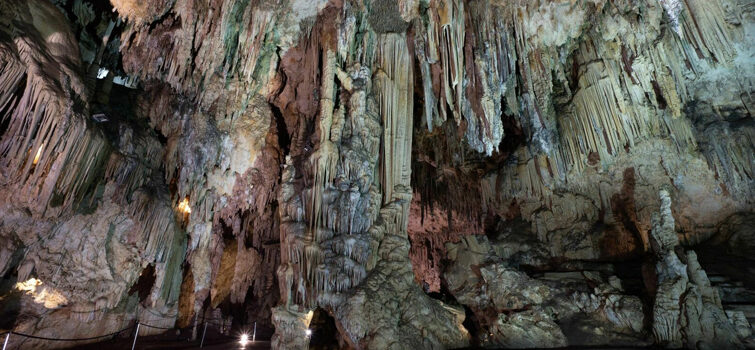 It was January 12, 1959 when Francis Montesinos Navas, Manuel and Miguel Muñoz Zorrilla, José Luis Barbero, José Miguel Torres Cárdenas, went down to the place known as «La Mina» and found the room now known as the Waterfall or the Ballet, at the impressive Cueva de Nerja.
La Cueva de Nerja, called the «natural cathedral of the Costa del Sol», is located 750 meters from the coastline on a hillock, about 200 meters above sea level and at the side of the Sierra de Almijara. It is located only 5 km from town and 1 km of annexed Maro. The cavity open to the public has an area of about 140,000 square meters, being its maximum length of 700 meters. In 1961 it was declared Historical Artistic Monument.
The cave is divided into three great parts: the Low Galleries or Tourist Galleries, the High Galleries (discovered in 1960) and the New Galleries (discovered in 1969). At present works are carried out for the opening of new galleries.
Archaeological remains have been found such as tools, fossils and paintings, as the cave was fitted 30,000 years ago but has been hidden for the last 3,000 years, which has allowed its current preservation. But the most attractive is the huge column in the Hall of Cataclysm, with a height of 60 meters and a diameter of 18 meters.
Schedule
Winter: From 9 am. to 4 pm. (Last Admission 3 p.m.). Summer (July and August): From 9 am. to 6:30 pm. (Last Admission 5:30 p.m.).
Price
Adults: € 10 Children (between 6 – 12 years): € 6